International freight services Radim Kotrbanec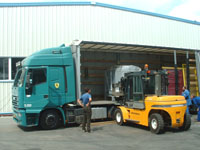 The family company Autodoprava Radim Kotrbanec provides good quality services since 1992 in the following fields:
International freight services
National freight services
Express transportation
Forwarding services
Short-term warehousing
We provide an easy solution how to transport your goods from the Czech Republic to the whole European Union and vice versa.
We have a long term experience with transportation of pallet goods, cardboard boxes, machinery, welded material, construction material etc. Cargo from 100 kg to 25 tons is carried by our own or contractual vehicles from the Czech Republic to EU and back, but mostly to Great Britain, Italy, Germany and Netherland.
We believe that our eventual cooperation will be beneficial for you too.